Ann Arbor, MI Daycare
4220 Plymouth Road, Ann Arbor, MI 48106
Welcome to Childtime of Ann Arbor, MI!
Welcome to our Childtime educational daycare in Ann Arbor, Michigan - here since 1995! My name is Jennifer Morgan and I am the school program director. I have a bachelor's degree in child development from Madonna University and have been with the company for seven years. I have had wonderful experiences interacting with so many families over my years of working in the early childhood field. I feel a sense of accomplishment watching children begin in our
infant daycare
and
preschool program
and then seeing them in their caps and gowns heading off to Kindergarten
Being a manager creates a wonderful opportunity to help our teachers grow, learn, and develop their own leadership skills. We create an atmosphere for the teachers to take ownership of their classrooms, create a "home away from home" environment and to develop activities to create lifelong learners.
Our teachers have a variety of education and training courses in CPR/first aid and early childhood development. They have been with us anywhere from one to ten years, and they continue to train monthly and receive ideas for new ways of teaching and interacting with the children.
We are a NECPA (National Early Childhood Program Accreditation) accredited facility. Accreditation assesses our overall program, teacher training/qualifications, parent and community involvement, and safety practices. We receive the award every three years and we continue to meet the needs of accreditation standards.
We look forward to your visit and showing you why our Childtime learning center is the premier child care in the Ann Arbor, MI area! Call to schedule your tour today.
We are accredited by
Accreditation by a nationally recognized organization means our school employs established "best practices" in the social, emotional, physical, language and cognitive development of children.
A Day In The Life Of Our Students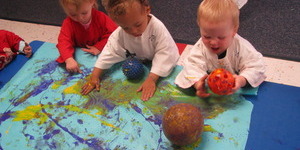 Learn more about how Childtime helps every child prepare physically, emotionally and intellectually for the challenges of Kindergarten and beyond. All in a safe, nurturing environment.