Bethesda, MD Daycare
4550 Montgomery Avenue, Bethesda, MD 20814
Welcome To Childtime of Bethesda
Welcome to the Childtime educational daycare in Bethesda, MD! My name is Suneeta and I am the Director of this unique school. I have master's in child development and am a member of OCCD - Organization of Child Care Directors - in Montgomery County. I have 25 years of experience as a teacher and manager. Drawing on this experience and education, I can confidently say that Childtime offers the best
infant daycare
and
preschool programs
in the Bethesda area.
I have a very diversified center which makes all the families and children feel at home! I have a team of highly qualified teachers from all around the world to bring out the best in each of our child who is enrolled into our program.
I run this school as if the children, parents and teachers are an extension of my own family. I strive to create a warm and welcoming environment and maintain an open-door policy for anyone who would like to talk. We plan special events every month for everyone to participate in and I work hard to ensure families at our school in Bethesda, MD meet each other and develop strong relationships as well.
I find it rewarding when I overhear a child telling their parent about the great day they had and how much fun they had with their teachers. We are fortunate to have an outstanding staff dedicated to our children and families. All my teachers are CPR & FIRST AID trained and receive monthly training as well as ongoing training provided by the state.
We value the relationships we have with our families and work hard to involve them. We offer a number of opportunities for our families to volunteer in the classroom and on field trips as well as monthly events, including Parents' Night Out and other family outings.
Don't miss the opportunity of visiting this very unique school and please bring your child with you if you can. Call to schedule a tour of this great Childtime educational daycare in Bethesda, MD today! We look forward to meeting you.
A Day In The Life Of Our Students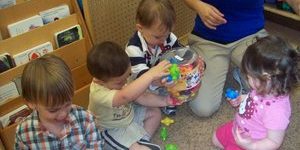 Learn more about how Childtime helps every child prepare physically, emotionally and intellectually for the challenges of Kindergarten and beyond. All in a safe, nurturing environment.