Brook Park, OH Daycare
6233 Smith Road Brook Park, OH 44142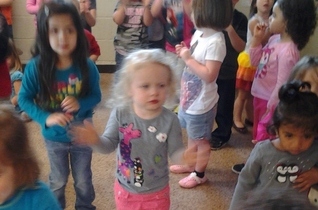 A Typical Day For A Child
A typical day at Childtime consists of many learning experiences and new adventures. Each classroom follows a detailed schedule and curriculum that best meets the needs of the children's development.

We start our day with a morning Group Time activity. Each classroom sits with their children and reviews the activities for that day. This time consists of group activities such as singing, fingerplays, learning experiences and group discussions. These group discussions will include the weather, the theme for the week and an opportunity for the children to share their own stories and ideas. Our older Preschool group will also review the monthly calendar and days of the week.

After our morning Group Time, we move into our experience activities. This will include activities in Math, Exploration, Communications, Pretend Play, Studio, Language, and small group activities. The children have choices as to which areas and activities they participate in. Make sure you stop in to see our Documentation of Learning displays. These will give you a better idea of how much the children are learning throughout their day.

The rest of our day consists of three meal times which teach social skills and good nutrition habits, two 30-minute gross motor activity times which consist of free play and group games, and a rest period to relax our bodies and prepare for the afternoon experiences.
Infant Experiences Schedule
Our infant experiences class schedule is a little different from the other groups. We ask for each parent to complete a child profile on each infant that enrolls in our program. This profile gives us an idea of what schedule the child follows at home. We follow this schedule as close as we can so the child's and parent's experience is a consistent and enjoyable one. Each day you will receive a "My Day" form that tells you exactly what schedule your infant followed while here at Childtime.