Chesapeake, VA Daycare
1431 Eden Way North, Chesapeake, VA 23320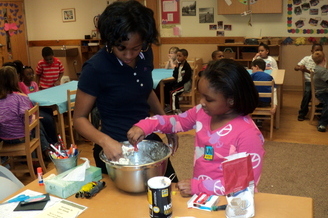 Before & After School Care
Our before- and after-school Discovery Club is way more than day care. It's a program that's designed to support your child's increased interest in sports, art, music and more. Teachers provide a balance of organized and self-selective activities. To keep the environment fresh and exciting, new materials are introduced each week. One week your child will learn all about secret codes; the next week your child could be trying to calculate how many whales would fit in the school. Whether doing homework, having fun with friends or reading age-appropriate books, your child will thrive as a member of our Discovery Club.
To learn more about our Discovery Club Before & After School Programs, schedule a tour.
You cuddle me and calm my fears when mommy leaves me. My mommy loves how independent I am becoming.
-Riley (with help from Mommy)
Chesapeake, VA
Come Visit Us!