Clifton, VA Daycare
6000 Union Mill Road Clifton, VA 20124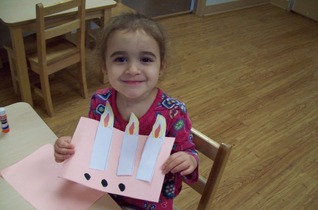 A Typical Day For A Child
Madelyn hops through the doorway into the vestibule. Her Dad punches in the code and stops, one short so Madelyn can do what she does every morning at Childtime, she pushes the last button to unlock the door. After signing Madelyn in on the computer, Dad walks Madelyn to the classroom. There she greets her BMFT (best morning friend teacher) Mrs. Bobbie with the usual jump into a bear hug. They all wave bye to Dad and Madelyn quickly sits at the table for breakfast. Today it's English muffins with cinnamon and milk. As the morning goes on, Madelyn is able to explore the room by playing in centers with her friends.

Once her classroom teacher arrives, her day really gets started. She has story time, project time, activity time, learning center time and even outside time. Lunch is provided at 11:30. Madelyn experiences lunch just like at home. She sits at a table with her friends, serves her own food and talks with her friends. When she is finished she is encourage to clean up not only herself but her table too. She then prepare for nap time.

Once Madelyn has rested she is ready for the 2nd half of the day. She sits at the tables again for family-style afternoon snack which today, consist of saltines and cheese with juice. After snack, Madelyn is ready to move on to bigger and better things like outside time again. Before Madelyn is ready to go home, she does just about everything she did this morning, plus she finished up a project she wasn't able to complete earlier in the day due to being so busy!