Columbus, OH Daycare
6660 Double Tree Avenue, Columbus, OH 43229
Welcome To Childtime of Columbus
Welcome to our Childtime educational daycare in Columbus, OH! My name is Sarah Stertztbach and I have been the Director here since 2006 and working in the world of children since 1998. In addition to providing superior
local infant care
,
our preschool programs
offer the best early education in the Columbus area.
I believe early childhood education is the gateway to children's futures. I am passionate about early childhood education and am excited to show the children at this center a new and inviting world of learning. The staff at Childtime strive to build positive and open relationships with all of the families that come through our door. It is important to us that every family feels welcome and that we meet the necessary needs of each individual child. I have an open door policy, where parents and staff can come and talk to me at any time with concerns, comments or questions. We help shape the the future and we are truly honored to be part of the early childhood world.
The staff have over 94 years of combined experience working in the childcare world. Over half of the current staff have been at this location for more than six years. We are a solid core that works together to make sure all families feel they are getting the best care and early childhood education possible. We all participate in continual training and receive the most up-to-date techniques to work with small children.
Schedule a tour of our Childtime educational daycare in Columbus, OH today! We look forward to meeting you!
A Day In The Life Of Our Students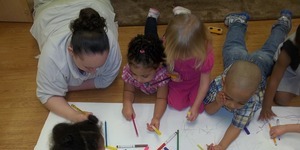 Learn more about how Childtime helps every child prepare physically, emotionally and intellectually for the challenges of Kindergarten and beyond. All in a safe, nurturing environment.