Dearborn, MI Daycare
6051 Mercury Drive Dearborn, MI 48126
Welcome to Childtime in Dearborn, MI
Hello and welcome to our web page. My name is Lisa Bazzi and I am the Center Director of Childtime educational daycare in Dearborn, MI.
I have a associate's in Early Childhood Education. I have 4 years of teaching experience and 12 years as a Center Director. I am also a Mentor Director who administers trainings to teachers and new Center Directors. It is my job to oversee the operations of the school and insure that our children and families receive top-of-the-line service and education.
I also feel that the school is a reflection of the Director. Whether it's providing loving
care for infants
or participating in
preschool programs
, I love having the opportunity to be part of the first impact on the rest of the students' lives. We have the privilege to set the stage for a life of magical things to come. Nothing makes me happier than to walk into a classroom and witness intrigued faces while participating in an activity.
Our lead teachers have their associate's degree and more in education. They are required to maintain their CPR, first aid and 12 credit hours of updated education per year.
We are a family and we would like the opportunity to get to know you and your children. I have no doubt that you will fit right in. Hope to see you soon and thank you for visiting Childtime educational daycare in Dearborn, MI!
A Day In The Life Of Our Students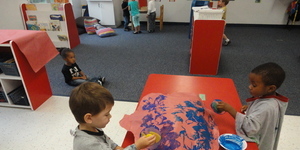 Learn more about how Childtime helps every child prepare physically, emotionally and intellectually for the challenges of Kindergarten and beyond. All in a safe, nurturing environment.