Fairborn, OH Daycare
1000 Rainbow Court, Fairborn, OH 45324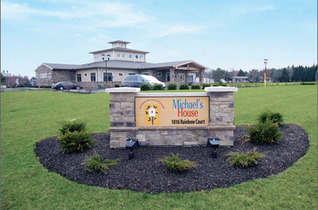 In The Community
STATEWIDE CHILD ABUSE PREVENTION MONTH KICKOFF IN FAIRBORN
Fairborn, OH. April brings spring flowers each year as well as the national observation of Child Abuse Prevention Month. This coming Monday, March 26th, Greene County's Michael's House Child Advocacy Center will serve as host for the annual statewide kick off event, Pause for a Child. The program will begin at 11:00 a.m. and in addition to local dignitaries, the Ohio Children's Trust Fund Chair, Ohio Senator Kevin Bacon will speak followed by special remarks from Supreme Court Justice Yvette McGee Brown.

Ohio Department of Job and Family Services (ODJFS) Director Michael Colbert, a Greene County native himself, recently toured the three-year old child advocacy center in Fairborn. Colbert was so impressed with the facility, which provides a multidisciplinary approach to the investigation, prosecution and treatment of child abuse; he asked Michael's House staff if the statewide kick off could be held there.

"Director Colbert thought highlighting our child advocacy center would serve as an example of the twenty-six child advocacy centers providing valuable services to children who have been abused across the state of Ohio," said Stephen K. Haller, Greene County Prosecutor. "The event will also help us bring awareness to this disheartening crime committed against the most vulnerable members of our community," Haller added. Representatives from Dayton's CARE House Child Advocacy Center and other members of the Ohio Network of Child Advocacy Centers (ONCAC) will also be in attendance. The national child advocacy center model includes community-wide child abuse prevention efforts in addition to the comprehensive services provided at each child-friendly center.

Haller, along with Greene County Sheriff Gene Fischer and Greene County Children's Services Executive Director Alice Maddox, has placed staff at Michael's House to coordinate the county-wide multidisciplinary team. "Our child protective caseworkers join law enforcement, victim advocates, mental health therapists and the medical staff of Children's Medical Center in a coordinated effort to help these children when abuse is alleged," said Maddox, "We have to spread the message of prevention throughout the community and the state; it shouldn't hurt to be a child."

The event, free and open to the public, and will include a "pinwheel planting" in front of the Fairborn child advocacy center. The pinwheel has become a nationwide symbol for child abuse prevention. Those in attendance will be treated to a musical performance by Fairborn's Childtime Child Care preschoolers, who will also lead the planting of the pinwheels in the Michael's House flower gardens. Light refreshments and tours of Michael's House Child Advocacy Center will follow.


Make-A-Wish Foundation® and Ronald McDonald House Charities®
The Make-A-Wish Foundation® and Ronald McDonald House Charities ® are devoted to improving the lives of children. And so are we. That's why we help them in every way we can.
Our involvement with these important organizations helps them do great things for children around the world. Our involvement also does great things for the children at Childtime — they learn lessons about compassion and caring that will last a lifetime.
For more information about our school's involvement, please feel free to talk with us.
Come visit us!