Gilbert, AZ Daycare
3319 East Baseline, Gilbert, AZ 85234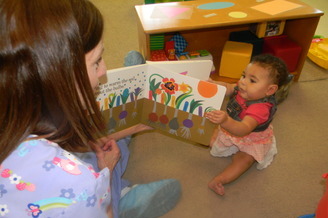 Infant Daycare
We are infant care specialists. Our infant care rooms provide a safe and secure environment where babies can move, explore and relax. Our loving teachers coo, cuddle, rock and do everything possible to bond with each child. To promote motor skills and sensory skills development, we encourage every child to grasp, clutch, touch and listen. Every baby is also provided with a personal crib, and there are separate areas for changing and feeding. To ensure that babies have an absolutely clean eating and playing area, we require anyone entering an infant classroom to cover their shoes with disposable booties.
To learn more about the quality care and education our infant programs provide, schedule a tour.
Every week when we drop off our son, we feel like we are leaving him with good friends who love him, and even more importantly, who HE loves to be with. As a mom, there is no better feeling than knowing I will be picking up my baby just as happy (sometimes even happier) than I left him.
-Celina
Gilbert, AZ
Come Visit Us!