Greensboro, NC Daycare
3700 Battleground Avenue, Greensboro, NC 27410
Welcome to Childtime Learning Center of Greensboro, NC
I'd like to welcome you to our Childtime educational daycare and
preschool in Greensboro
, North Carolina! Our establishment has been serving this community since 1988. My name Dayla Maddox and I am the center director. I have my credientials in early childhood education and have over 20 years experience as a teacher as well as management.
At Childtime, our
infant child care
and
preschool programs
provide the perfect foundation for learning and child development. We offer an excellent curriculum for all ages as well as a dedicated, highly motivated staff who provide a loving, warm environment conducive to learning. I enjoy interacting with the families, teachers and, most of all, the children.
The safety of your child is of the utmost importance to us. Our school has a coded front door. We also have check-in and check-out system where parents sign their children in and out daily.
We are committed to our families in Greensboro, NC. We plan events and activities for everyone to participate in. We work hard to ensure all of our families meet and develop relationships. We offer a number of opportunities for our families to volunteer in the classroom and on field trips as well monthly events.
Schedule a tour of our wonderful Childtime educational daycare and
preschool in Greensboro
, NC today to see why our school is the place for your child's early education!
A Day In The Life Of Our Students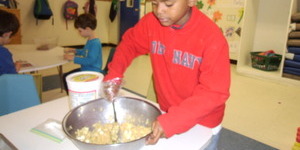 Learn more about how Childtime helps every child prepare physically, emotionally and intellectually for the challenges of Kindergarten and beyond. All in a safe, nurturing environment.