Greenville, NC Daycare
102 Scales Place, Greenville, NC 27834
Welcome to Childtime of Greenville, NC!
Hello and welcome to our wonderful Childtime educational daycare in Greenville, NC! My name is Nicole Batts and I am the school director. I have more than 20 years of experience as a teacher and a manager as well as degree in early childhood and development. I have been at this location for 12 years. I was fortunate enough to find early on what I truly enjoy doing, and that is providing quality child care for families. Drawing from this experience and education, I can confidently say that Childtime offers the best
infant daycare
and
private preschool
in Greenville, NC.
Part of what I love about my job is seeing a child's face light up when he or she learns something new. I also get to develop a close relationship with our families and truly value that connection. We get to make a difference in the lives of the children and families in our Greenville community. All of us at Childtime are committed to making each day a rewarding experience.
We have a wonderful program here with long-term teachers who care about the children as if they were their own. We encourage our parents to be an active part of their child's experience and plan activities that welcome your participation. And we are proud of our open-door policy – you can come in at any time to visit your child.
If this sounds like the type of early education environment you want for your family, stop in or give us a call and schedule a tour. Once you see all that we have to offer, I am confident that our Childtime learning center in Greenville, NC, will be the right place for you.
A Day In The Life Of Our Students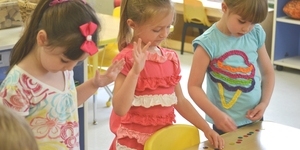 Learn more about how Childtime helps every child prepare physically, emotionally and intellectually for the challenges of Kindergarten and beyond. All in a safe, nurturing environment.