Hampton, VA Daycare
2 Manhattan Square, Hampton, VA 23666
Welcome to Childtime!
Thank you for visiting our Childtime educational daycare in Hampton, VA. My name is Zelda and I am the Center Director. I have worked in the early childhood industry for over 26 years. It is so rewarding because I am able to provide a positive impact on childrens' lives each day while they are here at the center, whether it's through our loving care for the infants or organizing
preschool
activities to providing a nurturing enviroment to support their development with quality programming.
We have made a concerted effort to create a warm, home-like place where children from infancy through school age are treasured and cared for. Our center reflects our childrens' and their families' lives through connecting and engaging with every family member. Our schedules here are based on the children, their needs and interests. Life is so busy and hurried these days, but here at Childtime we strive to be a quiet haven where children can grow and feel comfortable and safe.
Our school has been a part of the Hampton, VA community for 12 years. We are currently working on accreditation by NECPA (National Early Childhood Program Accreditation).
We have a talented group of teachers who have almost 200 combined years of experience in early childhood education. All of our teachers have passed background checks through Virginia State Police and Child Protective Services. Most of them are certified in CPR and first aid. All of them maintain their professional development by receiving monthly training in child development, safety, and best teaching practices.
We offer a high-quality learning environment for children and are committed to providing your family with a safe, engaging place for your child to grow and learn. We invite you to tour our Childtime educational daycare in Hampton, VA, meet our wonderful teachers, and watch the exciting learning activities going on in the classrooms.
A Day In The Life Of Our Students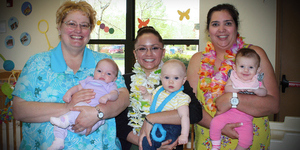 Learn more about how Childtime helps every child prepare physically, emotionally and intellectually for the challenges of Kindergarten and beyond. All in a safe, nurturing environment.