Jacksonville, FL Daycare
9950 Old St. Augustine Road, Jacksonville, FL 32257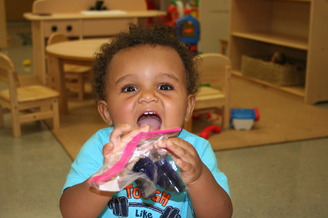 Toddler Daycare
We provide toddlers with the materials and experiences that take advantage of their natural curiosity and desire to learn. Our exclusive Beginning Steps curriculum gives toddlers the skills they need for success in Kindergarten and beyond. To develop motor skills as well as language skills, children toss, catch, crawl, walk and roll. They dance, sing and play outdoors. They do art and construction projects. Children are also introduced to important basic concepts such as distinguishing shapes and color, all in a safe, nurturing environment.
To learn more about the quality care and education our Toddler Programs provide, schedule a tour.
You all take such wonderful care of our son. He is always so happy when we pick him up at the end of the day. It is comforting to know he is being loved and taken care of by wonderful teachers who care so much.
-Hunter's Mom
Jacksonville,Florida
Come Visit Us!