Jacksonville, FL Daycare
8500 Argyle Forest Blvd, Jacksonville, FL 32244
Welcome to Childtime Learning Center of Jacksonville, FL
Thank you for taking the time to learn more about our Childtime educational daycare facility in Jacksonville, FL. I am Georgette, the Center Director. I hold a bachelor's degree in psychology from the University of Florida and have more than 15 years of experience working with children.
Whether it's providing
care for infants
or organizing
preschool
activities, I enjoy working with children and making a difference in their lives. There is nothing better than watching them grasp a concept as they are engaged in a classroom experience.
I am committed to our school here in Jacksonville and am confident I run one of the best programs in the area. My goal here is that every parent will have peace of mind knowing their child is in a safe, nurturing environment. We have a great team of teachers at our school. More than half of them have been with us for over five years and we continue to hire highly-qualified, experienced teachers because that is what our children deserve.
If you are looking for a warm, safe and secure, family-style provider for your child, look no further than our fantastic Childtime educational daycare in Jacksonville, FL. Stop in for a tour today to explore our classrooms, meet our teachers and learn how we can give your child a "Brilliant Beginning."
We are accredited by
Accreditation by a nationally recognized organization means our school employs established "best practices" in the social, emotional, physical, language and cognitive development of children.
A Day In The Life Of Our Students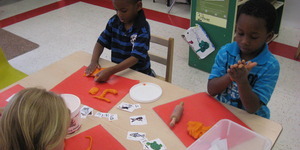 Learn more about how Childtime helps every child prepare physically, emotionally and intellectually for the challenges of Kindergarten and beyond. All in a safe, nurturing environment.