Jamestown, NC Daycare
4960 Piedmont Parkway, Jamestown, NC 27282
Welcome to Childtime of Jamestown, NC!
Welcome to our Childtime educational daycare in Jamestown, NC! We offer an excellent curriculum for all ages, delivered by a dedicated, highly motivated staff in a loving, warm environment conducive to learning. At Childtime, our
infant care
,
preschool
and school-age programs provide the perfect foundation for learning and child development.
Many of our teachers have been with us for more than five years, with combined experience of over 75 years at our school. Our teachers receive monthly training and participate in ongoing training offered by local agencies as well as our company. The director, Jennifer Nelson, has achieved a master's degree in Early Childhood Education and has more than 20 years of experience in the early childhood field.
Here at Childtime, we focus on development of the whole child. Each day, your child will be engaged in educational activities that take place in a secure, caring, and enriched environment. We teach each child with understanding and respect, while being responsive to his or her individual needs and your expectations.
Call today to learn more about our exceptional programs and join our family at Childtime learning center in Jamestown, NC!
We are accredited by
Accreditation by a nationally recognized organization means our school employs established "best practices" in the social, emotional, physical, language and cognitive development of children.
A Day In The Life Of Our Students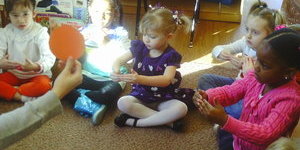 Learn more about how Childtime helps every child prepare physically, emotionally and intellectually for the challenges of Kindergarten and beyond. All in a safe, nurturing environment.