Las Vegas, NV Daycare
555 North Page Street, Las Vegas, NV 89110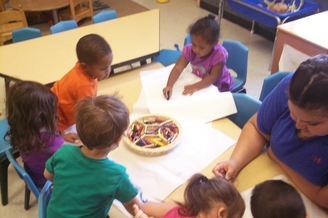 Early Preschool
We believe that all children are capable and talented. We also understand that children learn in their own ways. Our early preschool programs draw from Childtime's Powerful Beginnings curriculum, which is based on these beliefs. Our approach to early preschool education gives children the guidance and tools they need to develop their full potential. They learn motor skills through outdoor games, dancing and movement. They develop language skills through daily story time and by recognizing and forming letters. Arts and crafts help to develop their imagination. Large and small group activities and an emphasis on sharing and politeness help them develop socially.
To learn more about the quality care and education our Early Preschool programs provide, schedule a tour.
Our family loves Childtime. Ms. Janice and all the Childtime teachers take wonderful care of both our children. We feel they are safe and loved, and the environment is like a home away from home.
-The Stevens
Las Vegas
Come Visit Us!