Lawrenceville, GA Daycare
20 Patterson Road, Lawrenceville, GA 30044
Welcome to Childtime
Welcome to Childtime daycare in Lawrenceville, GA, where we offer a wonderful
daycare for infants
, educational
preschool programs
and more! My name is Angela Molette, Center Director of the Childtime Location on 20 Patterson Road in Lawrenceville, GA. I have been with ChildTime for 18 years.
I enjoy being involved in early childhood education because I feel like the children are a part of my extended family. I work hard to create a very warm and welcoming environment. We strive to make all of our children and families very happy on a daily basis. We plan a lot of fun events for everyone to participate.
We are extremely happy with our wonderful staff that is dedicated to our children and families. More than half of our teachers have more than five years of experience.
Schedule a tour of our great daycare in Lawerenceville, GA!!!
A Day In The Life Of Our Students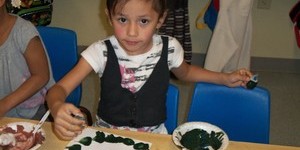 Learn more about how Childtime helps every child prepare physically, emotionally and intellectually for the challenges of Kindergarten and beyond. All in a safe, nurturing environment.