Lewisville, TX Daycare
1597 Glencairn, Lewisville, TX 75067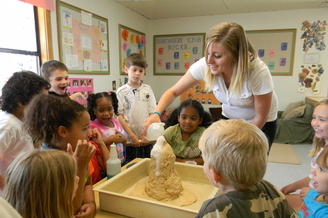 Before & After School Care
Our before- and after-school Discovery Club is way more than day care. It's a program that's designed to support your child's increased interest in sports, art, music and more. Teachers provide a balance of organized and self-selective activities. To keep the environment fresh and exciting, new materials are introduced each week. One week your child will learn all about secret codes; the next week your child could be trying to calculate how many whales would fit in the school. Whether doing homework, having fun with friends or reading age-appropriate books, your child will thrive as a member of our Discovery Club.
To learn more about our Discovery Club Before & After School Programs, schedule a tour.
We pick up and deliver to the following schools:

Vickery Elementary School
Degan Elementary School
Garden Ridge Elementary School
Highland Village Elementary School
College St. Elementary School
Southridge Elementary School
Vista Academy of Lewisville Elementary School
We absolutely love this school. Our children are happy and well cared for. The staff is great...all the teachers know our kids so they are met each morning with open arms and warm greetings. At the end of the day we have multiple staff to say goodbye to so it feels like we have extra family.
-Cara L.
Lewisville
Come Visit Us!