Lewisville, TX Daycare
249 East Round Grove Road Lewisville, TX 75067
Welcome to Childtime of Lewisville, Texas
Thank you for visiting our Childtime educational daycare in Lewisville, Texas! My name is Kristin Ogala and I am the director. I have been in the child care industry since 2000, both as a teacher and manager. I find it rewarding to be a part of such an elite group of educators who strive to make a difference in the lives of young children. It is an honor to serve my community with the best foundation that aids in the development of each child.
I am a committed director for our school. My team and I build relationships with families and children though our
infant childcare
,
preschool program
and other early education options. I am confident I run one of the best programs in the Lewisville area and that our students are safe and are engaged in a learning environment. Through the hard work of our staff, their dedication, and implementation of diversity in our center, we have been rewarded at a 4 Star Texas Rising Star School.
Here at Childtime Round Grove, we operate each day with the mindset that everyone who walks through our doors are an extension of our own families. We strive to create a warm and welcoming environment and maintain an open-door policy for parents that may need to address concerns, have lunch with their child or volunteer in one of our many parent engaged activities. We plan and implement weekly events for our families to participate and welcome any suggestions for future events.
We encourage you to come visit us here at Childtime Round Grove. Call us today and schedule a tour!
A Day In The Life Of Our Students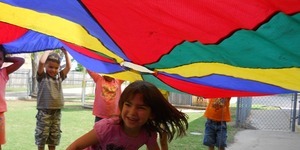 Learn more about how Childtime helps every child prepare physically, emotionally and intellectually for the challenges of Kindergarten and beyond. All in a safe, nurturing environment.