Lewisville, TX Daycare
249 East Round Grove Road, Lewisville, TX 75067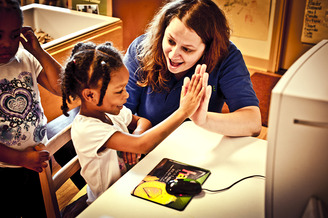 Pre-Kindergarten + Kindergarten Prep
Our Empowered Child™ curriculum was designed by early education specialists and follows the guidelines for developmentally appropriate practice set forth by nationally accredited associations. It prepares your child for success in Kindergarten and beyond. It emphasizes math, science, language and social studies. And through days filled with fun and learning, it helps develop your child's physical, cognitive, social and emotional skills.
Kindergarten Prep Enhancement
In addition to the skills they'll learn in Pre-K, students can build on specific Kindergarten skills with the K-Prep enhancement. This enhancement provides offerings to children who are 4 or 5 years old and will be eligible for Kindergarten next fall. Children will practice extra reading and math, extended seat work, handwriting skills, and letter formation.
To learn more about our Pre-Kindergarten and Kindergarten Prep Programs, schedule a tour.
I like to bring my three girls to Childtime because they are growing and learning while having fun. The staff is like family to us. My girls love coming. They have been coming here for two years and counting.
-Lorraine O
Lewisville, TX
Come Visit Us!