Mansfield, OH Daycare
145 Trimble Road, Mansfield, OH 44906
Childtime. We Offer Your Child a Brilliant Beginning!
Thank you for visiting Childtime Learning Center, a wonderful educational daycare in Mansfield, OH. My name is Theresa Blankenship and I am the director. I have had the great pleasure of working at Childtime for four years and have just recently taken on the position of director. I am excited to bring my ten years of early childhood experience to the management position.
As director, I am able to build relationships with our families and form bonds that last a lifetime. Whether it's providing loving
care for infants
or participating in activities in
our preschool programs
, I love what I get to do each day - watching children grow and learn! I believe given the right start, children will find ways to learn that are right for them. My staff and I nurture kids' natural curiosity and sense of wonder. Our home-like school, caring, highly trained staff and our carefully constructed programs make this a perfect place to grow and learn.
Our staff here at Childtime in Mansfield are seasoned with more than 50 years combined experience in the early childhood education field. More than half our teachers have degrees and all of our teachers attended ten or more hours of extra training in early childhood development each year. Our staff is certified in CPR and First Aid. The staff here at Childtime are well educated, experienced, and trained and they create a warm, caring, and nurturing environment.
We create a fun and safe learning environment that feels like home. Come join us and be part of our Childtime educational daycare in Mansfield, OH today!
A Day In The Life Of Our Students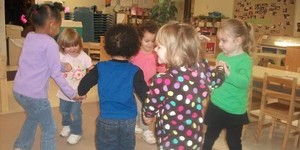 Learn more about how Childtime helps every child prepare physically, emotionally and intellectually for the challenges of Kindergarten and beyond. All in a safe, nurturing environment.