Marietta, GA Daycare
2950 Horseshoe Bend Road, Marietta, GA 30064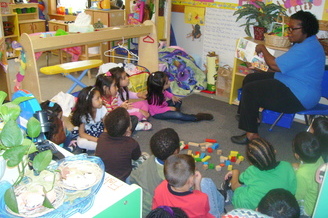 Pre-Kindergarten + Kindergarten Prep
Our Empowered Child™ curriculum was designed by early education specialists and follows the guidelines for developmentally appropriate practice set forth by nationally accredited associations. It prepares your child for success in Kindergarten and beyond. It emphasizes math, science, language and social studies. And through days filled with fun and learning, it helps develop your child's physical, cognitive, social and emotional skills.
Kindergarten Prep Enhancement
In addition to the skills they'll learn in Pre-K, students can build on specific Kindergarten skills with the K-Prep enhancement. This enhancement provides offerings to children who are 4 or 5 years old and will be eligible for Kindergarten next fall. Children will practice extra reading and math, extended seat work, handwriting skills, and letter formation.
To learn more about our Pre-Kindergarten and Kindergarten Prep Programs, schedule a tour.
No matter what time we pick up our son, he is happy, clean and being well cared for. He never cries when being left, which shows me that he is comfortable. Most of all I am always informed of my child's daily progress and activities. We have great confidence that our he is being well taken care of.
-Ryan & Shannia Williams
1104
Come Visit Us!