Mesa, AZ Daycare
5154 East Adobe, Mesa, AZ 85205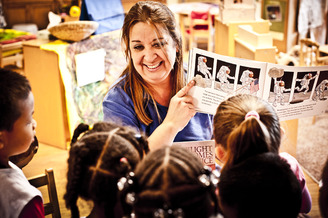 Preschool
Our preschool programs are based on Childtime's Powerful Beginnings curriculum, which takes advantage of three-year-olds' natural curiosity to help them learn and grow. Its specially designed games and activities help preschool children gain the skills they'll need to be successful in Kindergarten and beyond. Motor skills are developed through tossing, catching and outdoor play. Cognitive skills are developed through puzzles, games, and recognizing shapes and colors. Storytelling and recognizing and forming letters help develop language skills. And imagination is developed through dramatic play and art and construction projects. In addition to these important skills, our Powerful Beginnings curriculum also teaches your child about self-direction, self-respect and self-esteem, all in a safe, nurturing environment.
To learn more about the quality care and education our Preschool programs provide, schedule a tour.
Love how my daughter and I felt welcomed when we were greeted by the office staff and the Infant staff. I liked how clean the school was too.
-B. Lynch
Mesa, AZ
Come Visit Us!