Modesto, CA Daycare
3912 Honey Creek Road, Modesto, CA 95356
Welcome to Childtime of Modesto, CA
Thank you for your interest in Childtime educational daycare in Modesto, CA at 3912 Honeycreek Road. My name is Carol Thomas and I've been honored to work here for more than 25 years. I have an A.S. degree in early childhood education and over 30 years experience as a teacher/director.
Our Childtime in Modesto, CA - offering
daycare for infants
, early
preschool programs
, pre-K options and more - is accredited by NECPA (the National Early Childhood Program Accreditation). We first received the award in November 2008 and were re-accredited in March of 2012. We take a great deal of pride in being accredited and continue to adhere to the NECPA standards.
Our staff are outstanding and dedicated to the children and families at our school. Over half of our teachers have been here more than five years and together have over 122 years of experience working with children. We all receive monthly training along with one day per year of professional development.
I pride myself on my school and staff by promoting a home-like setting and making our families feel as if we are an extension of their family. It's very rewarding to hear children tell their parents about their day at school and how much fun they had. We strive to create a warm, welcoming environment and maintain an open door policy at all times. We host several family events throughout the year to maintain our positive relationships with our families as well as encourage families to develop relationships with one another.
Schedule a tour of our wonderful Childtime ducational daycare in Modesto, CA today! We look forward to seeing you soon!
We are accredited by
Accreditation by NECPA, a nationally recognized organization, means that we have succeeded in regularly carrying out and/or displaying the "best practices" established by the organization in the areas of social, emotional, physical, language and cognitive development of children.
A Day In The Life Of Our Students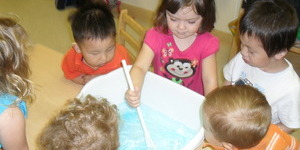 Learn more about how Childtime helps every child prepare physically, emotionally and intellectually for the challenges of Kindergarten and beyond. All in a safe, nurturing environment.