Modesto, CA Daycare
2320 Floyd Avenue, Modesto, CA 95355
Welcome to Our Childtime in Modesto, CA!
Hello and thank you for visiting our Childtime educational daycare in Modesto, CA. My name is Sonja Stephens and I am the Director of this wonderful school. I have worked for Childtime since 1998 and have my required early childhood education units and administration classes. I have also worked as a teacher, training teacher, and assistant director during my time with Childtime.
Our school at Modesto, CA, which offers
infant daycare
,
preschool programs
and more, is nationally accredited by NECPA (National Early Childhood Program Accreditation). We have been accredited since 2005 and we continue to meet the needs of the accreditation standards.
I run this school like all involved are an extension of my own family - the children, parents, and teachers. I strive to create a bond with each and every family enrolled. We maintain a warm and welcoming environment for each enrolled family, as well as all prospective families. We encourage our parents take advantage of our open-door policy if they want to talk or even just to observe their child at play. We plan events for everyone to participate in and I work hard to ensure our families meet each other and develop strong relationships as well.
I find it rewarding when I overhear children telling their parents about the great day they had and how much fun they had with their teachers. We are fortunate to have an outstanding staff dedicated to our children and families. I am proud to say I have long-term teachers and a very low turnover rate. More than half of our teachers have over five years of teaching experience.
Call or stop by to schedule a tour and see for yourself why our Childtime is the leading provider of early education and child care in Modesto, CA!
License numbers: 500311787, 500311304, 500320584
We are accredited by
Accreditation by a nationally recognized organization means our school employs established "best practices" in the social, emotional, physical, language and cognitive development of children.
A Day In The Life Of Our Students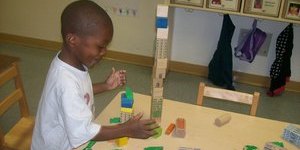 Learn more about how Childtime helps every child prepare physically, emotionally and intellectually for the challenges of Kindergarten and beyond. All in a safe, nurturing environment.