Oceanside, CA Daycare
4280 Via Rancho Road, Oceanside, CA 92057
Welcome to Childtime of Oceanside, CA!
Hello and welcome to our Childtime educational daycare in Oceanside, CA. My name is Janice and I am the School Director. I have more than 15 years of experience in early education and child care. I am pleased to say I was named a Diamond Director at Childtime, which recognizes outstanding achievement and commitment to children.
Our school in Oceanside, CA - offering
childcare for infants
,
early preschool
, a
private Kindergarten
program and more - is nationally accredited, which means parents can have peace of mind knowing they have found a school that provides the highest quality care and education in the industry. In fact, we have many children who started here as infants and are now in the school-age program, which speaks volumes about the kind of education and care we provide.
We believe communication is key, so we have an open door policy where you can stop in any time to visit your child or talk with our team about questions you may have.
When you come to Oceanside Childtime, you will find a warm, safe, nurturing, and educational environment. Each of our highly-trained teachers is dedicated to your child and their well-being. The majority of our teachers have more than five years of experience and combined, we offer 130 years - that's the kind of training you just can't find anywhere else!
If you are looking for a quality program for your family, look no further than this Childtime educational daycare in Oceanside, CA. Please give us a call if you would like to schedule a tour and see what our school has to offer.
License# 376600729, 376600730, 376600731
We are accredited by
Accreditation by a nationally recognized organization means our school employs established "best practices" in the social, emotional, physical, language and cognitive development of children.
A Day In The Life Of Our Students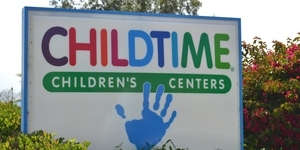 Learn more about how Childtime helps every child prepare physically, emotionally and intellectually for the challenges of Kindergarten and beyond. All in a safe, nurturing environment.