Oklahoma City, OK Daycare
11524 North Rockwell Avenue, Oklahoma City, OK 73162
Thank you for choosing Childtime at Rockwell!
My name is Sharon Liddle and I am the Director of Childtime educational daycare in Oklahoma City, OK. I have a bachelor's degree in Family and Child Development from Virginia Tech with an emphasis on Administration. I have 25 years experience as a Child Development Specialist working not only as a Director but also as an International Adoption Coordinator. I am a published author of specialized children's books dealing with life challenges.
Our school - which includes
daycare for infants
,
preschool programs
, pre-K and more - is nationally accredited by NECPA (National Early Childhood Program Accreditation). The standards we follow are higher than the State of Oklahoma's Child Daycare Licensing Standards.
I run this school with passion and excellence for learning and strive to make the environment welcoming for all involved: the children, parents and teachers. We plan a lot of events for everyone to participate in and I work hard to develop strong relationships with the families here in Oklahoma City. I find it rewarding when I overhear a child telling their parent about the great day they had and how much fun they had with their teachers. We are fortunate to have an outstanding staff dedicated to our children and families. All of our teachers receive monthly training as well as ongoing training provided by the state.
We value the relationships we have with our families and work hard to involve them. We offer a number of opportunities such as monthly events, including Parents' Night Out, Family Picnic, and other family outings.
Schedule a tour of our fantastic educational daycare in Oklahoma City, OK today! We look forward to meeting you!
We are accredited by
Accreditation by a nationally recognized organization means our school employs established "best practices" in the social, emotional, physical, language and cognitive development of children.
A Day In The Life Of Our Students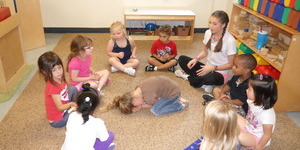 Learn more about how Childtime helps every child prepare physically, emotionally and intellectually for the challenges of Kindergarten and beyond. All in a safe, nurturing environment.