Oxnard, CA Daycare
700 East Esplanade Drive, Oxnard, CA 93036
Welcome to Childtime of Oxnard, CA!
Welcome to our amazing Childtime educational daycare in Oxnard, CA! We are located right off the 101 freeway located in the Topa Financial Plaza. Thank you for taking the time to learn more about
our preschool
. Let me begin by introducing myself. My name is Joni Isaac and I am the Director at Childtime. I have more than 25 years of experience working in early education both as a teacher and a director.
Part of what I love about being a director is sharing in the day-to-day learning process of our students, participating with hands-on activities, watching their excitement as they grasp a new concept, helping them with problem solving, and watching them connect with our great curriculum. The school is an extension of myself; sharing my own experiences with children plus creating the first time experiences is a privilege I cherish whole-heartedly.
Whether you are seeking superior
infant care
, engaging
preschool programs
, or other fun pre-K activities, you will find an entire team here at our Oxnard, CA Childtime committed to your child's success. Our teachers vary in their experience level from first time teachers to teachers who have been teaching over 25 years, which is dedication you can't just find anywhere else. They truly understand our philosophy for learning and go above and beyond to ensure your child is prepared for Kindergarten and school.
When you combine our teachers, world-class curriculum and safe environment, I am confident we have one of the best programs in the Oxnard, CA community. In fact, we are the only center based program that offers care from
infant care
to
preschool
curriculum to an after school program. I hope you will stop by for a tour or call to learn more about all we can offer your family.
It would be my pleasure to meet you and your child to start out your education experience. Schedule a tour of our amazing Childtime educational daycare in Oxnard, CA today!
CA State License Numbers: 566209676, 566209677,56620967
A Day In The Life Of Our Students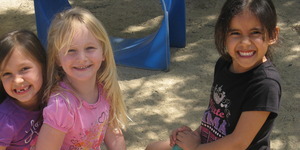 Learn more about how Childtime helps every child prepare physically, emotionally and intellectually for the challenges of Kindergarten and beyond. All in a safe, nurturing environment.