Phoenix, AZ Daycare
3546 East Thomas Road, Phoenix, AZ 85018
Welcome to Childtime of Phoenix!
Thank you for visiting our Childtime daycare in Phoenix, Arizona! My name is Holly and I am the Center Director. I have a Child Development Associate's Credential and I am working toward achieving my bachelor's degree in business administration with a specification in human resource. I have over twenty-three years of experience in the early childhood education industry, sixteen of those years have been with the Childtime family.
Our daycare--including
infant childcare
,
preschool programs
and other early education options--is enrolled in the Quality First program and we take great pride in our commitment to providing quality education and care for our children and our families. We continue to meet the high quality expectations established by the
infant
, toddler, and early childhood rating scales.
I run this school like everyone involved is an extension of my own family - the children, parents and teachers. I strive to create a warm and welcoming environment and maintain an open-door policy for anyone who would like to talk. We encourage our families in Phoenix, AZ to be involved in our program so we plan many events for everyone to participate in and I work hard to ensure that families meet each other and develop strong relationships with one another and our Childtime family circle.
Nothing is more rewarding than hearing the excitement in the children's voices and seeing the excitement on their faces as they share with their parents the active and fun day they've had. I'm proud of my team of teachers who are highly dedicated to our children and our families. This dedication can be attributed to their longevity in the Early Childhood Education field, with the majority of them having seven or more years of experience. All teachers receive monthly training to keep them abreast of the latest research and developments in the ECE field. Each of them is motivated to create strong relationships with the children in their classroom and their families.
Please schedule a tour of our daycare in Phoenix, AZ. today!
A Day In The Life Of Our Students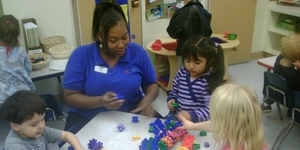 Learn more about how Childtime helps every child prepare physically, emotionally and intellectually for the challenges of Kindergarten and beyond. All in a safe, nurturing environment.