Raleigh, NC Daycare
9420 Six Forks Road, Raleigh, NC 27615
Welcome to Childtime of Raleigh, NC!
Hello! I am Virmeche Corbett, the Director of Childtime educational daycare of Raleigh! It is with great joy that I manage an awesome group of teachers and serve wonderful loving families! In my 15 years of child care experience, I have had the opportunity to see firsthand the benefits of children being nurtured for in a loving, developmentally-appropriate environment! It is my mission to create a fun yet stimulating learning environment that prepares your child for his or her next developmental milestone! My BS degree in Birth-Kindergarten Education and my minor in Special education prepared me to better understand the unique needs of young learners
At Childtime of Raleigh, our classrooms allow for a gentle transition into each learning program. Our
Infant
rooms allow for the separation of mobile and non-mobile infants. Our Toddlers and Twos (also known as early learners) program allows for separate transitions with a younger and older classroom as well, ensuring the comfort of each growing child. All of our spacious classrooms are filled with materials to aid in your child's learning process.
In each of our programs, our teachers develop individualized lessons, based on documented observation of your child's learning.
Our Preschool
, Pre-Kindergarten and Jr. Kindergarten classrooms will prepare your child for a successful transition into elementary school, through a specific focus on Math, literacy and problem solving skills. By equipping young children with the tools needed to problem solve independently, their learning increases vastly.
Our teachers are qualified and excited to aid in your child's development. Our staff has more than 100 years of combined experience.
Childtime of Raleigh has been caring for families since 2000! Our warm and home-like atmosphere is designed especially for you and your child. We would love to have you as a part of our family, and we invite you to schedule a tour of our wonderful learning center today!
A Day In The Life Of Our Students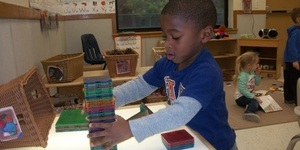 Learn more about how Childtime helps every child prepare physically, emotionally and intellectually for the challenges of Kindergarten and beyond. All in a safe, nurturing environment.