Rochester, NY Daycare
400 Dorsey Road, Rochester, NY 14616
Welcome to Childtime in Greece, NY!
Thank you for taking the time to visit Childtime daycare in Rochester, New York! My name is Wendy and I have been the director of this educational daycare for nearly five years. I have my masters in counseling, and 10 years experience managing staff and working with children and families! I have two children of my own who I am proud to say have been a part of our Childtime family.
Whether it's providing loving
care for infants
or participating in
our preschool
activities, the teachers work hard everyday to go above and beyond to meet the needs of the children and families in our care. We work hard to maintain a warm, loving, safe and educational environment for everyone. The teachers and I are always available to discuss any topic and welcome all feedback and suggestions. We take pride in continually growing to be the leader in childhood education in Rochester, NY!
We value the relationships we have fostered with the families and children we care for. We believe that communication is the key to success for all parties.
We are truly passionate about caring for children, and welcome parent involvement. We have volunteer opportunities available, as well as monthly special events to keep families engaged and having fun! Past events have included Parent's nights out, Parent-Teacher conferences, Healthy Choices activities and the Hop a Thon!
We hope you come in see the great programs we have to offer at our educational daycare in Rochester, NY! I look forward to meeting you!
A Day In The Life Of Our Students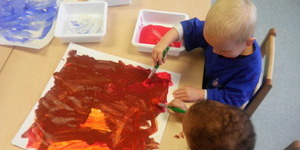 Learn more about how Childtime helps every child prepare physically, emotionally and intellectually for the challenges of Kindergarten and beyond. All in a safe, nurturing environment.