San Diego, CA Daycare
8111 New Salem Street, San Diego, CA 92126
Welcome to Childtime in San Diego, CA!
Welcome to our educational daycare in San Diego, CA! At Childtime,
our preschool
and pre-K programs provide the perfect foundation for learning and child development.
We believe children are talented, capable people who construct their knowledge through investigation and exploration, story and play. They are
born with a sense of wonder and a natural curiosity about the world around them and they need to express their feelings, ideas, and experiences in many different ways.
The Empowered Child curriculum, designed by early education specialists for our Skill Builders and Kindergarten Connection classes, follows the guidelines for developmentally appropriate practice set forth by the National Association for the Education of Young Children (NAEYC). It provides the three components of quality early childhood education: developmentally appropriate activities, a wondrous classroom environment and quality teacher-child interactions.
At our Childtime here in San Diego, we give children the time, materials and guidance to understand their world and to communicate that understanding in ways that are meaningful to them. We recognize that children are naturally curious about the world around them and learn critical foundational science, math, reading and writing concepts through hands-on, sensory-oriented activities. We support children's active exploration and investigation through creative play activities.
Brain research has shown children make deeper connections in comfortable, calming, home-like learning environments, surrounded by the beauty of the natural world. We know children feel safe here and are therefore best able to focus and learn.
We invite you to tour our educational daycare today and see what Childtime can offer your family. We look forward to meeting you!
A Day In The Life Of Our Students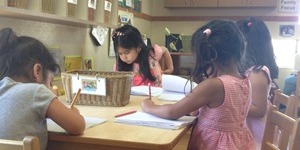 Learn more about how Childtime helps every child prepare physically, emotionally and intellectually for the challenges of Kindergarten and beyond. All in a safe, nurturing environment.