St. Marys, GA Daycare
201 North Julia Street, St. Marys, GA 31558
Welcome to our family!
Hello and welcome to our wonderful Childtime educational daycare in St. Mary's, GA! My name is Vicki and I am the school director. I have more than 29 years of experience as a teacher and manager. I enjoy the opportunity to be able to participate in the development and growth of all the children.
Whether it's providing loving care for infants or participating in activities in
our preschool programs
, I love interacting with the families and seeing the children grow and develop into lifetime learners. I enjoy building a relationship with our parents and children. My staff and I take the time to talk to our families on a daily basis. We have wonderful teachers on staff at Childtime in St. Mary's who really love the children and being here with them during the day and watching them grow.
Our school has an open-door policy. We encourage and invite family participation at all times. It is our goal that the parents are as involved as they would like to be in all aspects of our daily operations. The parents are a great resource for our staff and we pride ourselves on creating a strong bond that gets us through each day. All of our teachers are certified in CPR and first aid. Because we value the safety of our children and school, our entry to the facility has a biometrics system.
Our teachers do not limit themselves to the classroom they have been assigned to because they are dedicated to the growth and development of every child. They take the time to learn about their students and form relationships with them and their families as well as all of the children in the center. We have a very warm environment here!
We look forward to having you visit us and seeing why our Childtime educational daycare in St. Mary's is the premier provider for your child's early education.
We are accredited by
Accreditation by a nationally recognized organization means our school employs established "best practices" in the social, emotional, physical, language and cognitive development of children.
A Day In The Life Of Our Students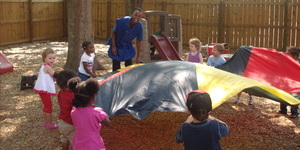 Learn more about how Childtime helps every child prepare physically, emotionally and intellectually for the challenges of Kindergarten and beyond. All in a safe, nurturing environment.