Temecula, CA Daycare
27321 Nicolas Road, Temecula, CA 92591
Welcome to Childtime of Temecula, CA!
Thank you for considering Childtime educational daycare in Temecula, CA, where we are committed to creating a solid foundation for a life long love of learning! My name is De Anne McCashland, and I am the center Director. I have been with the Childtime Learning Center for over 21 years and can't imagine working for anyone else!
The programs and dedication of our teachers set us apart from any other school! Our teachers encourage exploration and facilitate meaningful learning for your child each and every day. Some of the interest areas you will find in our classrooms involve Science, Math, and Language activities, just to name a few.
We run this
preschool
here in Temecula like everyone involved is an extension of our own family - the children, parents, and teachers. From the earliest stage of child development, we strive to create a safe and secure environment through our loving
care for infants
so that babies can grow, explore and relax. We also promote a warm and welcoming experience at Childtime by maintaining an open-door policy for anyone who would like to talk. We plan a lot of events for everyone to participate in and we work hard to ensure that families meet each other and develop strong relationships as well.
Safety is key when it comes to taking care of your little one and giving you peace of mind! We have a security door that must be accessed to enter the building, and a strict process in which we follow for all visitors in our school.
Whether it's providing
infant care
or engaging in
early preschool
activities, our children and parents are cared for as extended family! We want children to feel valued for who they are and help to develop them into caring, independent, responsible members of our community. We look forward to having the opportunity to share our school with you!
Please take a moment to call to schedule a tour of our wonderful Childtime educational daycare in Temecula, CA!
A Day In The Life Of Our Students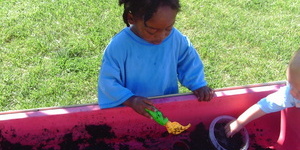 Learn more about how Childtime helps every child prepare physically, emotionally and intellectually for the challenges of Kindergarten and beyond. All in a safe, nurturing environment.