Winston - Salem, NC Daycare
1021 West Clemmonsville Road, Winston - Salem, NC 27127
Welcome to Childtime of Winston - Salem, NC!
Welcome to Childtime educational daycare in Winston-Salem, NC! My name is Heather Shaw and I am the Center Director of this amazing school. I have been working in child care as a teacher and manager since 1996. I love the bonds that we make with the families at our center, and I enjoy watching the children grow and develop into successful lifelong learners.
I would like to take this opportunity to tell you how our programs--ranging from
infant care
to private Kindergarten--and staff will exceed your expectations for an early child care education facility. It is truly rewarding to see the progress our students make as they advance from one class to the next.
Furthermore, we have an outstanding group of teachers on our staff here in Winston-Salem. Together, they have more than 100 years of experience working at this location. To stay current on education and training, all of our teachers participate in ongoing training throughout the year. Additionally, we have an amazing cook who ensures that the children are receiving healthy and balanced meals that are safe for those with allergies.
Since we opened in 1991, we have provided a safe, warm and welcoming learning environment for children. We remain committed to providing your family the best educational experience possible. Call us today to schedule a tour and see firsthand why our wonderful Childtime learning center in Winston-Salem, NC, is the perfect fit for your child!
A Day In The Life Of Our Students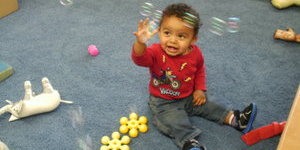 Learn more about how Childtime helps every child prepare physically, emotionally and intellectually for the challenges of Kindergarten and beyond. All in a safe, nurturing environment.