Keeping Families Connected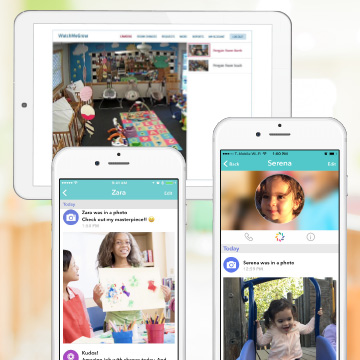 Growing is a shared experience. That's why we're committed to providing simple ways to keep you connected throughout the day while your child is in our care. Being apart can be a challenge. So we want to be sure you can keep up with every special moment and milestone.
Live Streaming Video
Open a window to your child's day. Deployed, traveling, or just plain busy parents can view their child's classroom on any smart device or computer.
Live streaming video
Encrypted and tightly controlled
Every account authorized individually
Intuitive and easy to use
Note: Live streaming video is visual only, no audio.
Family Communication App
You'll love receiving real-time photos, videos, and updates, through our app for parents. The app offers:
Photos and videos
Milestone and learning updates from your child's teacher
Kudos: Teachers have the ability to quickly share out "wow" moments
Plus, save and share your favorite memories:
Past updates don't expire; simply scroll down to relive favorite memories
Parents can share access with other people, such as grandparents
Easily share photos through text messages, emails, and social media
Updates are private and highly secure, visible only to you and your chosen recipients.
Don't forget: The enhanced digital experience of our SproutAbout™ app is coming soon!
Note: Technology offerings vary by school. Ask your school director for details.