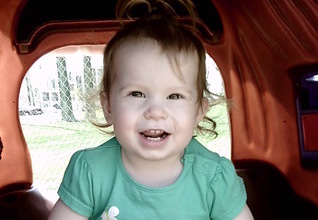 What Families Are Saying
What do families just like yours think of Childtime? Many of our families have taken the time to share their honest thoughts on every aspect of the Childtime experience. The following comments from real Childtime families will give you some idea. To get an even broader perspective on Childtime, check us out on independent forums like
Google
and
Yelp
.
"We visited several other daycares early that morning and walking into their classrooms was chaos. We walked into your preschool and every child was sitting quietly and attentively in a circle while she read them a story. Amazing - I was instantly sold. In the days since, she has not let me down."
Amanda S
Blue Ash
"Ms. Sam in the preschool room is awesome! My son absolutely loves her! She always has great lesson plans and activities and is very knowledgeable. Ms. Megan (Toddler 1) has also been wonderful to my 18 month old. They do an excellent job with his moods and separation anxiety."
Emily C
Blue Ash
"Our daughter has been enrolled at your center since September 2014. Our impression from our first visit was that the center has a very nice feel to it and it would be a good environment for our daughter. Since enrolling our daughter, that initial feeling is constantly reinforced and we are pleased with our experience at Childtime. The Director is incredible. I like that her door is always open and is welcoming of any concerns. The Assistant Director is extremely engaging and genuinely interested in our needs. Ashley R always greets our daughter with a warm welcome, which sets the tone for the day. Special thanks to Sarah for always taking pictures and sending them to us. We would like to extend a big thank you to the entire Childtime staff for taking great care of our daughter. You all are some of the most caring compassionate people we have met! We could certainly recommend Childtime to friends!"
K Family
Blue Ash
"Thank you so much for everything you do! Thanks for putting up with my ever changing school schedule, and most importantly, thank you for making Noah's first school experience a wonderful one!"
Marybeth C
Blue Ash
"We love Ms. Sam. She's very caring and engaged with the kids. She greets Evan with a warm hello every day that he's at school, which helps him overcome some of the shyness when he first arrives. There have been a few days where Evan had a hard time letting me leave and Ms. Sam surprised me with pictures and/or videos of Evan having a good time. From a learning standpoint, Evan thrives in the classroom environment. We talk about our days each night at dinner and Evan is always telling us about something new he has learned. We pass at least a dozen other daycare centers on the way to Childtime, but do so because we believe there is a difference in the quality and level of engagement with the kids."
Rob R
Blue Ash
"Thank you for all of the outstanding care you provide to our daughter and all of the children on a daily basis. We consider ourselves lucky to have found such a caring, loving, and first-class facility. Your efforts are truly appreciated."
Kim K
Blue Ash
"We have LOVED having Kent at Childtime and being part of the Childtime family. I love that every morning we are greeted with smiles and waves and that all of the teachers know who Kent is and make sure he feels welcome. It was such a hard decision for me to have him go to daycare to begin with and your team put my mind at ease from day one with the pictures of him playing and having fun in addition to the notes letting me know what he had done all day. We have nothing but positive things to say about the facility, staff, and the care that Kent has received. I so appreciate you and everyone on your staff for taking such great care of our little guy. He's already developed into a well-rounded little toddler thanks to the curriculum and love he's received at Childtime - and for that we will always be grateful. "
Kerri, James & Kent
Blue Ash
"We LOVED working with both Ashleys while Megan was in the Toddler room. They made her feel welcome and loved and we felt very comfortable dropping her off every day. You could tell she thoroughly enjoyed spending time at school. We especially appreciated the time Ashley took in attending a conference to discuss Megan's goals as well as keeping us informed of any positive/constructive things we should be aware of."
Jessica Q
Blue Ash
"Thanks so much for all you do for Evan. We appreciate you and LOVE Childtime!"
Jen R
Blue Ash
"Thank you for being great leaders and taking the time to make each family feel warm and valued at your center! We feel very lucky to have found this center and will recommend it to anyone. You all create a loving and caring atmosphere that makes us so at ease each day. THANK YOU for all that you do every day, for every child!"
Andi E
Blue Ash
"My son has been attending Childtime since he was a newborn. The infant teachers are fabulous! I never worry about my son's safety or well-being while I am work. I will definitely refer my friends and family to this Childtime location."
DH
Blue Ash
"After touring several centers in the area, we decided on Childtime - staff is incredibly friendly, a secure building and well-behaved children. I am going to work knowing my child is in good, loving hands."
Amanda S
Blue Ash
"My son has had a great experience at Childtime. We came there on short notice and the directors eagerly showed me around, answered all my questions, and talked me through all of the requirements and paperwork I'd need in order to enroll my son. Since then, I am happy to report the teachers have been very involved in my little guy's development. From helping with potty training to teaching social skills and learning basics, I have seen my son develop both intellectually and emotionally. I'd recommend this particular Childtime to any interested parents looking for child care in Blue Ash!"
Andrew F
Blue Ash
"We really appreciate the kindness, personalized attention and flexibility that you provide to my sons. Jeff really enjoys his teachers. The teachers have really been patient with him, which has been perfect. A special thank you to the Infant 1 & 2 room teachers. I always feel like Thomas is in good hands and is exposed to a positive atmosphere. A final thank you to the staff in general. You have always been pleasant, kind and polite to me and my family. Being a parent is an adventure every moment and I am so grateful that you have helped our family, cared for our boys and even provided advice and support to help me be a better mom."
Anjali P
Blue Ash
"I love the way Ms. AJ cares/interacts with my son as well as myself. She keeps me updated on everything, and keeps a smile on her face at all times. I always feel a positive energy from her and that's wonderful to know that she puts everything into her job because she loves working with kids!""
Shaunice H
Blue Ash
"Deanna and Megan - you are so great with Josh and make sure he's comfortable and loved every morning at drop off. Sam - even though she's not Josh's teacher, she still makes him feel like he's welcome and shows genuine interest in how he's doing. He still talks about her regularly, and wants to visit often."
Emily C
Blue Ash
Read Reviews from Others
or Share Your Own!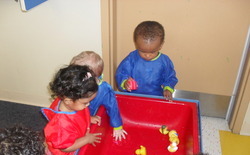 Pay Online
Pay your child's tuition through our online payment system.
Go Now
Like us on Facebook
Great things are happening
at our school.
Check it Out