Fairport, NY Daycare
585 Garnsey Road, Fairport, NY 14450
Welcome to Childtime Fairport
I'd like to take this opportunity to welcome you to our wonderful educational center in Fairport, NY, where we offer great programs such as
preschool
and
infant care
! My name is Kathy and I am the center director. I have a bachelor's degree in Childhood Education and a master's degree in Literacy, as well as my teaching certification and more than six years of experience in the early education industry.
I love coming to work every day and interacting with all of our children and their families. I consider it a privilege to be part of each child's life. I truly value the personal relationships with parents and children, as we are an extension of their family. It is incredibly rewarding to walk into any classroom in my school and be able to see the hands-on learning and engagement. That combined with the hugs I get from the kids each day makes mine the best job in the world!
I am especially proud of our staff which consists of many certified teachers, all of whom have extensive experience working with children. I appreciate all of our teachers for their years of service and devotion to our children and their families.
Here at Childtime in Fairport, NY I encourage families to visit at any time throughout the day. Our families truly feel at home when entering our school. We are deeply rooted in our community and have a long-standing reputation of family involvement. We engage the Fairport community by offering several family activities throughout the year, including holiday luncheons, picnics and open-house events.
I invite you to stop by or call for a tour so you can witness first-hand all the things that set us apart. I look forward to meeting you and welcoming you into our educational center here at Childtime in Fairport, NY.
A Day In The Life Of Our Students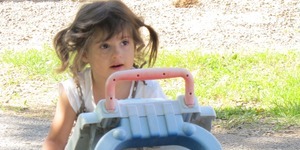 Learn more about how Childtime helps every child prepare physically, emotionally and intellectually for the challenges of Kindergarten and beyond. All in a safe, nurturing environment.