Manassas, VA Daycare
8461 Signal Hill Road, Manassas, VA 20110
Welcome to Childtime of Manassas, VA
Welcome to our Childtime educational daycare in Manassas, VA. My name is Melissa O'Brien and I am proud to be the director! I have 23 years of child care experience. I have gained a wealth of knowledge with early childhood education by working at many levels in the field, from teaching in the classroom to training teachers and mentoring center directors in my region. Drawing from these experiences, I can confidently say that Childtime offers the best
infant care
and
preschool
in the Manassas community!
My passion is building relationships with our families, fostering trust and cultivating their needs. Our endeavor is to be an integral part of the community. We are passionate about your child's future and confident your child will receive an excellent and positive educational experience here at our school.
I am proud of our team of teachers, many of whom have a long tenure with the company. Our teachers strive to meet each child's unique needs and are committed to promoting academic and social excellence to all children.
The staff and management team at Childtime in Manassas are dedicated educators who provide an exceptional learning experience for your child, creating a home-like environment in which children are inspired to engage, interact, and explore their world. We work together to create a safe, loving atmosphere that will facilitate the social, emotional, and educational growth of every child. Our goal is to provide a culture of outstanding service and professional excellence to our Childtime families. The ultimate goal of our adventure together is to prepare your child to be a life-long learner.
Want to experience the best? Give us a call to schedule a tour of our Childtime learning center in Manassas, VA and meet our exceptional team!
A Day In The Life Of Our Students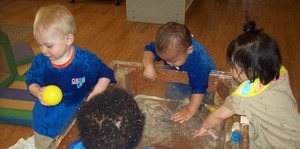 Learn more about how Childtime helps every child prepare physically, emotionally and intellectually for the challenges of Kindergarten and beyond. All in a safe, nurturing environment.