Midlothian, VA Daycare
4201 Mallard Landing Circle, Midlothian, VA 23112
Welcome to Childtime in Midlothian, VA!
As the Center Director of Childtime daycare in Midlothian, VA, I want to welcome you to our extraordinary educational daycare and learning center. My name is Tammy Breeding and I have been in education for five years and at Childtime for two years. I have a child development associate credential in early childhood education and am certified in CPR/first aid/AED and am also MAT-certified.
Our center is conveniently located in beautiful Chesterfield County in Midlothian, VA. The center--offering
infant child care
among other early education programs--has been in this location for 11 years.
I love being the Center Director because of the difference our program and staff make in the lives of families and children. We are so much more than child care! We care for and educate the whole child. Our curriculum and programming encourages skill development in literacy, math, social skills, physical skills, cognitive and creative thinking, and so much more. It is wonderful to see how children develop and grow in an environment that nurtures them. My management style is based on building a successful team that carries out the best practices of early childhood education and daycare.
Our staff has a passion for educating and caring for children. The whole staff is certified in CPR and first aid. We also have early childhood training each year in specialty areas and health observation. This is in addition to the staff's individual degrees and training. Several staff members have over 15 years of experience and most have five years or more of early childhood education and care experience.
Our family-style dining and home-like atmosphere makes children and parents feel at home at our center. You'll notice the difference in our center the moment you walk through the door.
Please call or stop by today for a tour. We'd love to have your family join our Childtime daycare in Midlothian, VA!
A Day In The Life Of Our Students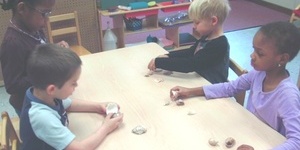 Learn more about how Childtime helps every child prepare physically, emotionally and intellectually for the challenges of Kindergarten and beyond. All in a safe, nurturing environment.