Tamarac, FL Daycare
8169 Pine Island Road, Tamarac, FL 33321
Welcome to our Childtime of Tamarac, FL
Welcome to Childtime in Tamarac, FL! My name is Elizabeth and I am the Center Director of this great educational child care facility. I have been in the early education and child care industry for many years and truly love what I do. I find it extremely rewarding to interact with the children each day, help our teachers grow professionally, and help make a difference in the lives of everyone at our school.
I manage our school as if it were one large family, including our students, their parents and our staff. We strive to create a warm and friendly atmosphere conducive to student learning and put parents at ease.
At Childtime, we offer curriculum for 6 weeks through 12 years old, including Winter, Spring and Summer Camps. We promote an open-door policy where parents may come in at any time to discuss a concern or make a suggestion. To encourage more parental involvement here in Tamarac, we conduct events to ensure our families meet each other and allow for the development of strong relationships.
Every day is a new journey and our dedicated staff, and members of management Mrs. Rachel & Ms. Vashtie, are pleased we are making a difference in the lives of tomorrow's generation. We believe Childtime is the best kept secret in Tamarac, but people are quickly learning we have one of the leading child care facilities in the area! Your children will learn and grow with us.
Schedule a tour of our highly recommended Childtime educational
preschool in Tamarac
, FL today! We look forward to meeting your family!
We are accredited by
Accreditation by a nationally recognized organization means our school employs established "best practices" in the social, emotional, physical, language and cognitive development of children.
A Day In The Life Of Our Students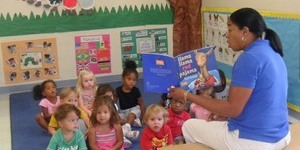 Learn more about how Childtime helps every child prepare physically, emotionally and intellectually for the challenges of Kindergarten and beyond. All in a safe, nurturing environment.